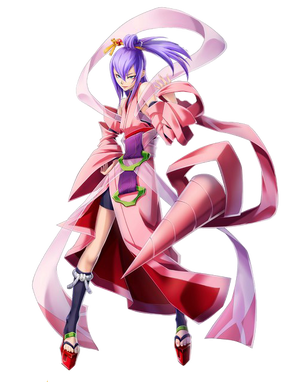 Amane Gekko is the Jinjuriki of the Nagur and a Member of the Gekko Family. He is the Flying Pirate.
Background
Edit
Amane is one of the Jinjuriki of the Gekko Clan. Before reaching Heaven Tail, on his final journey, Larry D. Rogue was approached by the "Flying Pirate" Amane Gekko, who had learned that Rogue had located an Ancient Island Laputa. Seeing the opportunity, he asked Rogue if they could join forces. With his large pirate fleet and Roger's weapon, Amane believed that together they could share One Piece the legendart Treasure. Despite the urge of one of his apprentices, Rogue accepted his offer, saying that he wanted to be free seeing the world. Amane then announced that his answer meant the Alliance of Pirates and Shinobi, while Rogue said it meant that he would beat him and a great sea battle soon ensued between their crews. Near his death, Roger had a final meeting with Amane, as he told him about the nickname the government gave him, Gold Roger, and the secret of the Will of the Shinobi. In the final days of Rogue's reign, he had attained more wealth, power, and fame than anyone could imagine.
Appearence
Edit
Amane Nishiki is an androgynous male character with violet hair tied in a bun and blue eyes with dark pink eyeshadows and red lipstick. He wears a flowing pink and red kimono that exposes his shoulders underneath is sleeveless black skintight turtleneck, black shorts and legwarmers, and red platform sandals. He also sports a translucent pink scarf which appears to levitate through unknown means. In his pre-battle that was first seen in the trailer, he wore a royal white geisha outfit underneath was a pink and red-colored checker pattern kimono.
Abilities
Edit
Full Nagur Form
Edit
This dangerous Ability that has the speed like the 5 Tailed Mouse.
This Ability can go for high speed like the story of the Tortoise and the Hare.
Knights (Multiple)
Samurais (Multiple)
Catapults (Multiple)
Brachio-Tanks (Multiple)
Ad blocker interference detected!
Wikia is a free-to-use site that makes money from advertising. We have a modified experience for viewers using ad blockers

Wikia is not accessible if you've made further modifications. Remove the custom ad blocker rule(s) and the page will load as expected.