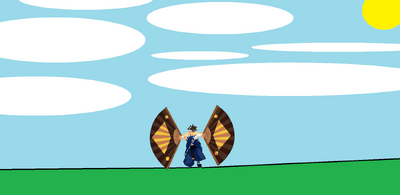 The Warrior that was Folding Double Tornado Fans as his favorite Weapon.
Anja as the kid seeing the flood killing the parents in Izumogakure. Raiken adopted him as his younger brother and treated him nicely and gentle.
Background
Edit
Anja met
Paul Kurosagi (Paul No Tsurugi)
as the Chancellor-in-General along with Empress
Okami Yuki
of
the Nippon Empire along with the Armies was Ranked the Commandore of the Mobile Suit Forces was sent to support the Soilders and secure the
Big Zam Squad
for Carl the Commandore of the Black Marines and Brings Ace to the B-N Alliance
Battleship Gundam MK III
HQ.
Mumakil Mayhem
Edit
Just as the Battle seem one, The
Marines
struck back with the Herd of
Mumakil
. As the Last of the Mumakil fell
, Akainu was killed at the hand of Okami Yuki. The War won at the hands of the Britannia-Nippon Alliance. When Anja was 23 Years Old, He Adopted a brother named
Raiken
After the Marineford Field mayhem was tense.
Raiken- Adopted Brother
Ad blocker interference detected!
Wikia is a free-to-use site that makes money from advertising. We have a modified experience for viewers using ad blockers

Wikia is not accessible if you've made further modifications. Remove the custom ad blocker rule(s) and the page will load as expected.