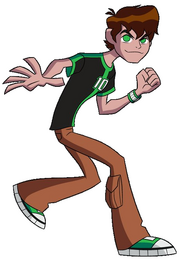 Ben Tennyson II is one of the Incarnations of Kokori no Mikoto.
Appearence
Edit
Ben's physical appearance has changed throughout the series from a ten-year-old kid to a sixteen-year-old teenager. However, he retains some recurring characteristics. He has shaggy brown hair, green eyes, pale skin, and he's quite skinny for his age, though he shows a lot of muscle definition due to being athletic.
Ben wears a shirt which is black and has a green stripe in the middle with a white 10 and green stripes on the sides of his shirt. He wears brown pants with pockets at the knees and green and white shoes. He later gains a white hooded jacket with green stripes on both arms and a green number 10 on the right side. He wears the Watch on his left wrist.
Kokori no Mikoto- Original Ben Tennyson II
Ad blocker interference detected!
Wikia is a free-to-use site that makes money from advertising. We have a modified experience for viewers using ad blockers

Wikia is not accessible if you've made further modifications. Remove the custom ad blocker rule(s) and the page will load as expected.