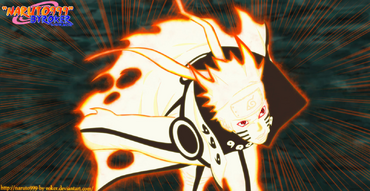 Bijuu Bijuu no Mi (尾獣尾獣のミ, Beast Beast Fruit) is a Paramecia-type Devil Fruit that enables the user's body to a Tailed Beast with Eight Heads that was accidently eaten by Paul Gekko when he see the fruit fallen from heaven.
AppearenceEdit
This Devil Fruit resembles an Apple with s like swirls. The user's ability to stretch and twist like rubber to extreme lengths not only makes them immune to injuries that originate from such, but it also allows them moves that can give them a great advantage in battle or otherwise. Stretching also allows the user to drastically increase the range of what would otherwise be considered a powerful close-range attack, turning it into a devastating mid-range or long-range attack. A stretched limb can also be used to store potential energy like a stretched spring, increasing the velocity by stretching his arm back resulting in increased power. Combined with Haki, his power is increased even more. Owing to rubber-like natural insulating properties, the user is also immune to electrical attacks and is also able to hit an electric Logia user without Haki.
AbilitiesEdit
Bijuu Dama: Paul Gekko gather both positive black chakra (+の黒チャクラ, purasu no kuro chakura), and negative white chakra (−の白チャクラ, mainasu no shiro chakura), shape it into a sphere, and then compress it inside their mouth. The black and white chakra needs to be balanced at an 8:2 ratio respectively or it will backfire. The ball can be fired differently, either in sphere form, which can be detonated for a wave explosion or launched to form a dome-shaped blast which flattens and erases everything around it, or as a concentrated beam of energy which gives it explosive penetrative power.
Bijuu Bazooka: Paul stretches both his arms far back, and then hurls them forward, striking his opponent with both instantaneously with a double open palm strike with both hands, that frequently sends the recipient(s) flying off the other direction. This is usually used as a finishing move, he often prefers to do it at point-blank range, sometimes running up to his opponent as he's charging it.
Bijuu Gatling: Paul uses his stretching ability to bring his fists forward repeatedly in a blurry, rapid barrage of strong punches that creates the illusion of him having multiple arms, however he does not actually grow more arms so he can still be stopped by an opponent fast enough (as Enel, Rob Lucci and Usopp have demonstrated).
Ad blocker interference detected!
Wikia is a free-to-use site that makes money from advertising. We have a modified experience for viewers using ad blockers

Wikia is not accessible if you've made further modifications. Remove the custom ad blocker rule(s) and the page will load as expected.