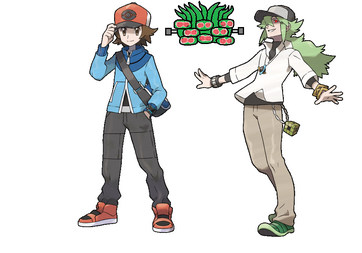 Dash (トウヤ Dashu) is the male protagonist in Pokemon Ruby and Pearl series.
Appears inEdit
In Pokemon Sinnoh League HydraEdit
Dash returns to Sinnoh Region in Sunnyshore City, his Home town where he met and have a Battle the Young Volkner and Young Flint with Pikachu and Chimchar and won with Samurott and Seviper. At Sudden, Rogue Poacher came and Battled Dash's Samurott and Volkner and Flint came and saved him and finally became good friends. A reunion with Hotaru and finally Paul Gekko and his fiancé have their New Pokemon, a Sewaddle and a Luvdisc as their life is so fun in the Shinnoh Reigon
Dash are having the Pokemon Journey to become a Pokemon Master was accompanied by Takata Tokugawa, Hankmaru and T. Dash and Hankmaru were friends with N, Who is the King of Team Plasma. At Dragon Spiral Tower, Dash, T and Hankmaru saw Reshiram awakend at the hands of Team Plasma. T said that, [she] and [her] firends had the power to believe in People and Pokemon. Team Plasma was defeated and Dash have succeeded on being a Pokemon Master.
He takes the role of the Digidestined named, Dack.
He appears in the First Episode.
Appearence
Edit
Dash's Appearence was the Same as Hilbert's Apprearence.
Personality
Edit
Same Personality as Hotaru and Utakata's Personality.
Hotaru (Oshawott evolved into Dewott and into Samurott)

Turtwig

Starly (Evovled into the Staravia the True Sovereign and Staraptor)

Hydreigon (Given to Hankmaru)

Flymon (Tranquill)

Litmon (Litwick)

Starly

Seviper

Dialga

Palkia

Reshiram

Sewaddle

Gym Badges
Edit
Trio Badge

Basic Badge

Insect Badge

Bolt Badge

Jet Badge

Quake Badge

Legend Badge

Pokemon Battles
Edit
Young Dash battled Young Volkner
Ancient Greymon