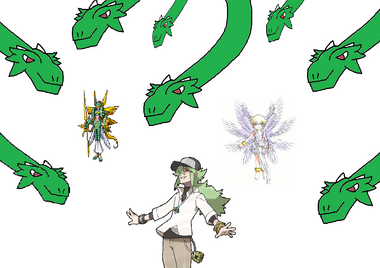 The T.V Series Procceded from Pokemon Ruby and Pearl
Appears inEdit
Shun, Dack and T.M picked up the DigiJutsu devices and was sucked into the Digital World and went on the crazy Adventures and Succeeded on defeatin Quartzmon.
Digidestined
Edit
Honey D. Paul as Eight Year into Seveteen Old Shun
Dash as Dack
Hotaru as T.M
Sora Uzumaki
Joe Mikoto
T.K
Matthew (Shun's Older Brother)
Hikari
Takuya no Mikoto
Koichi Mizawa
Koji Minamoto
Koichi Kimura
Tommy
Zoey
J.P.
Protagonist's Digimon
Edit
Patamon (Digivolved into Angemon)
Gomamon
Agumon
Duskmon (Koichi's Digimon Form)
Loweemon (Koichi's Digimon Form Due to Change of Heart)
Biyomon
Gabumon
Veemon
Gulimon
Kyubimon
Tanemon
Terriermon
Lobomon
Gatomon
Orochimon
Quartzmon
Apocalymon
Bagaramon
Lucemon (Lucemon's Twin Digivolved into Lucemon Larva)
Digimon Conquerer, Kylemaru (Servant of Orochimon)
There is only 4 Episode in the T.V Series
Episode 1
Edit
Aftermath
Episode 2
Edit
Desparate Starvation
Episode 3
Edit
Final Battle
Episode 4
Edit
Fate of Eight Worlds
Procceeded By
Edit
Procceded From
Edit
Pokemon Ruby and Pearl
Ad blocker interference detected!
Wikia is a free-to-use site that makes money from advertising. We have a modified experience for viewers using ad blockers

Wikia is not accessible if you've made further modifications. Remove the custom ad blocker rule(s) and the page will load as expected.