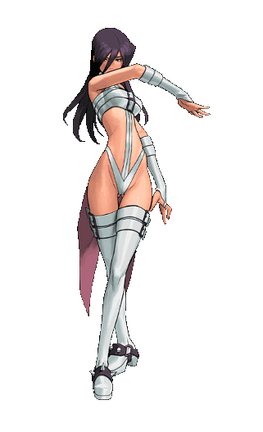 Elena Uzumaki (エレナうずまき) was Cassandra Uzumaki's Older Twin Sister, She is the Eldest Daughter of the Renato Clan's Princess Magarita Renato.
Appearence
Edit
Elena Uzumaki was Identical to Cassandra.
Personality
Edit
She is a mild-mannered pacifist. She withdraws herself from society to avoid upsetting Paul Gekko.
Biography
Edit
Though kept in a suspended state, Elena continues to feel that mankind has feared the Legendary Creature, Yamata no Orochi. After he slew the Three Tailed Monster who attacked the orphanage and rescued the children from the incident, they escaped to the Castle in Izumo and made due with Paul's secret missions. However, once he got badly hurt in a match, she seeks Kyoto's help. The two orphans temporarily stay in his care until her brother was awakened after recovering in the fight with the Gigantic Beast. Unaware of the incident, Cassandra chose to tag along with him in Izumogakure hoping to stave her brother's injuries. Sometimes later, Cassandra and Elena comforted Paul about the loss of his brother. She became Friends with Raikō Shimiza. Cassandra recieves her Baby from Paul Takamagahara of Takamagahara Village and she named a young girl Cassandra Junior.This allowed Elena to become an Aunt of Cassandra Child. Cassandra and her Family went with Paul to the Pizzeria to have a Pizza Party. Cassandra and her child chose to help Paul Gekko on his journey thus Elena joining in too.
Etyhology
Edit
Elena is a European variant of the Greek name Helen, which means 'torch' or 'corposant.' In Greek mythology, Helen is the daughter of Zeus and Leda and the most beautiful woman in the world. Although married to Menelaus of Sparta, she was given to Paris of Troy by the goddess of love, Aphrodite, in return for being named the most beautiful of the goddess. Some differing accounts claim she went with Paris willingly. Menelaus' attempts to reclaim his wife resulted in the Trojan War.
Cassandra Uzumaki- Younger Twin Sister
Paul Gekko- Adopted Brother
Kyoji Gekko- Adopted Brother
Kaede Gekko- Adopted Brother
Mira Gekko- Adopted Sister
Shunji Gekko- Adopted Brother (Deceased)
Yuki Uzuki- Sister-in-Law
Ventus Gekko- Nephew
Paul Kiske- Nephew
Kandy- Neice
Princess Magarita Renato- Mother (Deceased)
Ad blocker interference detected!
Wikia is a free-to-use site that makes money from advertising. We have a modified experience for viewers using ad blockers

Wikia is not accessible if you've made further modifications. Remove the custom ad blocker rule(s) and the page will load as expected.