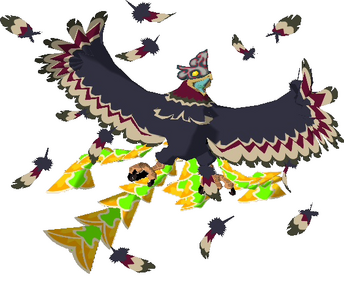 Helmaroc Serpent also known as the Monstrous Helmaroc Serpent is depicted as an exceptionally large, antagonistic Kargaroc wearing a steel mask similar to a Helmaroc King.
Background
Edit
End of Creation ArcEdit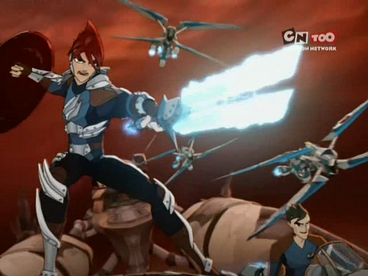 The Hemaroc Serpent is a servant of Ganondorf. He is flying over Outset Island. He is attempting to kidnap Tetra while her crew gives chase. Eventually, the pirates shoot the Helmaroc King out of the sky and he drops Tetra into the Forest of Fairies. After Link rescues Tetra, the Helmaroc Serpent returns to Outset Island and kidnaps Link's sister, Aryll. Quill informs Link and Tetra that the beast resides at the Forsaken Fortress and that is surely where he is taking Aryll. Link successfully infiltrates the Forsaken Fortress, but is eventually captured by the Helmaroc Serpent who throws him into the sea at Ganondorf's request. With this knowledge, Link and the pirates travel to the fortress to rescue her. Later, Link returns to the Forsaken Fortress for a final time to save Aryll. He manages to reach his sister while Tetra and her pirate gang distract the Helmaroc Serpent. Shortly after Tetra's pirates manage to get the girls out, the Helmaroc King returns to its roost. The roost begins to flood, forcing Link upwards to the top of the tower. After Link knocks the bird down into the water with his Skull Hammer, he reaches the roof. The hatch on the roof closes rapidly thus sealing the the Giant Bird for Good.
Ad blocker interference detected!
Wikia is a free-to-use site that makes money from advertising. We have a modified experience for viewers using ad blockers

Wikia is not accessible if you've made further modifications. Remove the custom ad blocker rule(s) and the page will load as expected.