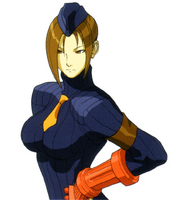 July whose real name is Julia is one of the Incarnations of Kokori no Mikoto.
Appearence
Edit
July is albeit with a rather more busty figure. Her hair is styled into a bun at the back, with long, thick bangs at the front. She wears the a tight navy blue thong leotard with an open back, a small yellow tie attached to the front, a navy blue cap, navy blue tights, red gauntlets and black boots. On her left arm she wears a brown armband.
Kokori no Mikoto- Original July
July was named after one of the months in the Calender.