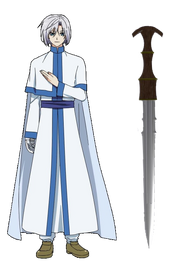 Kusanagi no Tsurugi (草薙のツルギ) is Paul Gekko's Sword used as a Self Defense Mechanism.
Appearence
Edit
Kusanagi no Tsurugi resembles the Legendary Sword, Excalibur.
In Deity form thanks to the breath of Sleipnir, Odin's eight-legged horse, he is a young man with fair-colored skin and blue eyes, he's almost tall. His silver hair hangs further then his neck with a portion of the back being much longer and falling past shoulders; he has a long fringe which hangs mostly over the right side of his face. He wears a long white robe with blue patterned hemlines and cuffs over plain white pants. This is held together with a dark blue sash and accompanied by a light cape. Over the top of this, Kusanagi dons another white and blue cloak with a high collar. On his feet are a pair of simple brown slacks. Kusanagi apparently owns many copies of this outfit. Kusanagi also possesses four long scars in the middle of his back.
Oliva can use Kusanagi to cut through a range of mountains in the distance with a single swing.
The Sword grants Oliva the Ability of Flight.
Kusanagi no Tsurugi (草薙劍, Literally meaning: Grass-Mowing Sword) is one of the Three Imperial Regalia of Japan (三種の神器, Sanshu no Jingi), together with the Yata no Kagami (八咫鏡, Literally meaning: Eight Span Mirror) and the Yasakani no Magatama (八尺瓊曲玉, Literally meaning: Eight Shaku Curved Jewel).