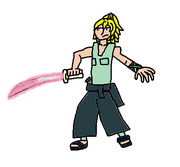 Kyoji Shimizu (恭二清水), more commonly known as Recca is a super-powered teen who is obsessed with ninjas, not knowing he is one himself. Being a descendant of the leading line of the Gekko Family.
Background
Edit
Main article: Shinto Christian Mythology
Yamata no Orochi ArcEdit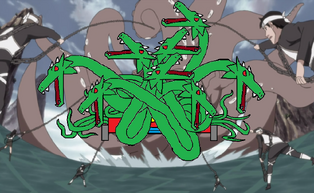 Born as the Eldest Son of Ohka Gekko, Kyoji was declared as the successor of the Gekko Family along with his younger Sisters, Saki Shimizu and Setai Shimizu. One year after his birth, in a fit of jealousy, Raiko and Gau attempts to kill the child but failed because the Group of Giant Mobile Suits have chased away the samurais. Some time after the attack that same year, Yamata no Orochi appeared on a rampage in the Gekko Family Village demanding the women tribute at the turn of the calender. Ohka died fighting to defend the village, and in the midst of battle, Kyoji's mother Kagerou Gekko took him and his sister to the woods. She used the forbidden spell Jikuryuuri to create a time portal. After she gave him the Tekkou to protect him from his flames, she threw Kyoji, Setai and Saki to the portal, hoping that they'll grow up in a peaceful era.
Present DayEdit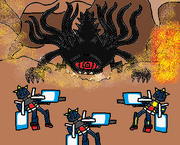 One night about five years ago, Raimei Shimiza woke up during the night only to find her brother adopting Kyoji and her Sisters as his Children. From that day forward, Kyoji and his Sisters lived like the usual boy of his age, going to school and such. Due to his birth origin as a ninja, he adores ninja in the present day and dreams to be one, to the point that people refer to him as a 'Ninja Maniac'. His record of fighting can be called impressive, as he never suffered any loss at all, using his agility, fireworks borrowed from Raikou and ninja knowledge to surprise his opponents. After the Battle of Ka Boa Bu, Kyoji took full responsibility for his family and his friends in order to raise donations of the Chakra.
Ad blocker interference detected!
Wikia is a free-to-use site that makes money from advertising. We have a modified experience for viewers using ad blockers

Wikia is not accessible if you've made further modifications. Remove the custom ad blocker rule(s) and the page will load as expected.