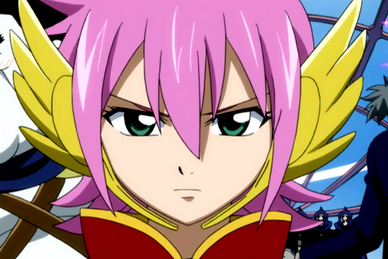 Meredy ((メルディ Merudi) is a young Girl of Ancient Izumo.
Appearence
Edit
Meredy is a young girl of short stature. She has short, pink hair and bright green eyes. She wears some sort of gold wing-like headgear around her ears.
Background
Edit
Mythology
Edit
Main article: Shinto Christian Mythology
End of Creation Arc
Edit
Meredy's hometown was destroyed by the Black Demon leaving her one of the city's only known survivors. She was approached by Thunder Strike that defeated the Black Demon and took the young girl into Team Cyclone and the White Legacy. She also came to view Yuri no Mikoto as a surrogate mother and grew close to her.
Ad blocker interference detected!
Wikia is a free-to-use site that makes money from advertising. We have a modified experience for viewers using ad blockers

Wikia is not accessible if you've made further modifications. Remove the custom ad blocker rule(s) and the page will load as expected.