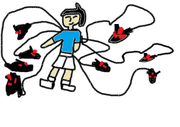 Paul was the Los Angeles Boy and a comrade to the
Gekko Clan
. Paul was a Pilot of the
MSJ 32-327 Godzilla Zaku
.
Background
Edit
Paul Anthony was born as the Heir to the Dy and Dilig Clan. He has been through elemntary school and middle school so much. He graduated Monroe High School and heads to miller academy in the future.
Vangie- Mother
Louie- Father
Nathan- Brother
David- Brother
Cynthia- Cousin
Paul's Grandmother- Grandmother
Paul's Grandfather- Grandfather
Solomon Dilig- Uncle
Jenny Dilig- Aunt
Neo Fortress: Yamata No Orochi
Neo Guardian: Sage of the Blizzards
Tailed Beast
Edit
Favorite Food
Edit
Pizza
Gum Gum Fruit (Devil Fruit)
Cheese Burgers
Forbidden Arts
Edit
Yamata No Orochi (Fortezza Gundam)
Kyuubi (Nine-Tailed Giant Fox)
Ancient Fairy Dragon
Black Rose Dragon
Kira
Mobile Suits and Mobile Armors
Edit
Techniques
Edit
Mobile Armor Jutsu: Yamata No Orochi
1995 Year Multi-Shadow Clone Jutsu
Gum Gum No Jet Nuclear Bomb
Yamata Deck
Edit
1 Dark Magician (Paul Dy)
1 Chimeratech Over Dragon
1 Chimeratech Fortress Dragon
1 Blue Eyes Ultimate Dragon
1 Blue Eyes Shining Dragon
1 Magician Valkyria (Okami Yuki)
Ryuseken (Dark Master Sword: Yamata No Orochi)
Devil Fruit
Edit
Ad blocker interference detected!
Wikia is a free-to-use site that makes money from advertising. We have a modified experience for viewers using ad blockers

Wikia is not accessible if you've made further modifications. Remove the custom ad blocker rule(s) and the page will load as expected.