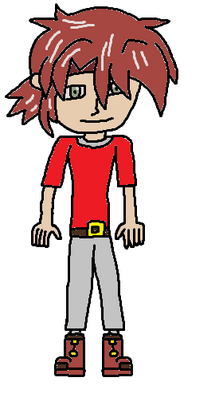 Paul Fon Fabre (ポール·フォン·ファブレ, Pōru· fon· fabure) (also known as Cyber Paul Gekko) is one of the mythical Replicas. Paul is the Replica of Paul Gekko. Paul Fon Fabre is the Jinjuriki of the Mythical Eight Tailed Dragon, Shinka no Mikoto. Paul Fon Fabre is the son of Izumo no Mikoto and Mizu no Mikoto and a Younger brother of Suiren.
Appearance
Edit
Paul Fon Fabre has Turquoise eyes and Red Hair. He wears a long white robe with blue patterned hemlines and cuffs over plain white pants. This is held together with a dark blue sash and accompanied by a light cape. Over the top of this, Paul Fon Fabre dons another white and blue cloak with a high collar. On his feet are a pair of simple brown slacks.
Background
Edit
Main article: Yggdrasil Mythology
After the Yamata no Orochi Arc, Paul Fon Fabre was created by God to be a special replica of Asch, Paul Gekko and Luke Fon Fabre. When Paul Gekko battles Mystearica Aura Fende and Luke fon Fabre, Paul Fon Fabre holds on to Paul Gekko before being blown away by the isofon-induced hyperressonance which transports the five away to Izumogakure.
Ten Tails ArcEdit
Paul Fon Fabre was involved in the Juubi Arc. Paul Fon Fabre helps Paul Gekko defeat the Ten-Tailed Beast and gets easily blamed by the Shinju for spitting Cotton at it's Body. Paul Gekko cheers up his mythical friend. With the combined efforts of the entire Hylian Federation, tailed beasts were freed from the Mobile Armor halting the Infinite Tsukuyomi.
Aftermath Arc
Edit
After the Ten-Tails Arc, Paula Fon Fabre begins to do the last shooting practice and did what the Paul Fon Fabre have done. Paula was Exhausted and went into a deep sleep. Paul Gekko went to her house only to find Paula awakened from her deep sleep. Paula Fon Fabre was easily fallen in love with Paul Fon Fabre and formed the Fabre Couple.
(Paul Gekko): I don't blame you for that menace Paul Fon Fabre.
(To Luke Fon Fabre): I think that Van Grants is trying to capture Pokemon including Goomy, Xerneas, Tranquill, and Inkay. and Obtain the Sound Fonon to eliminate the Score that Yulia Jue made.
Ad blocker interference detected!
Wikia is a free-to-use site that makes money from advertising. We have a modified experience for viewers using ad blockers

Wikia is not accessible if you've made further modifications. Remove the custom ad blocker rule(s) and the page will load as expected.