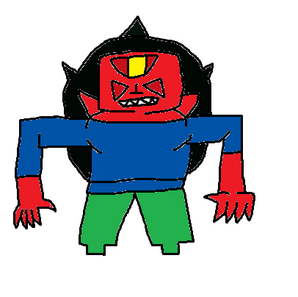 Reckchu (残骸チュー) is the Giagantic Oni from Japanese folklore.
The invisible oni eventually became anthropomorphized and took on its modern, ogre-like form, partly via syncretism with creatures imported by Buddhism, such as the Indian rakshasa and yaksha, the hungry ghosts called gaki, and the devilish underlings of Enma-Ō who punish sinners in Jigoku (Hell).They share many similarities with the Arabian Jinn.
Background
Edit
Some villages hold yearly ceremonies to drive away oni, particularly at the beginning of Spring. During the Setsubun festival, people throw soybeans outside their homes and shout "Oni wa soto! Fuku wa uchi!" ("鬼は外!福は内!"?, " Oni go out! Blessings come in!").
Ad blocker interference detected!
Wikia is a free-to-use site that makes money from advertising. We have a modified experience for viewers using ad blockers

Wikia is not accessible if you've made further modifications. Remove the custom ad blocker rule(s) and the page will load as expected.