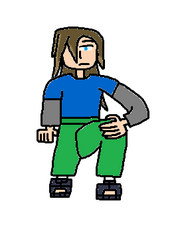 San (さん) is one of the Brotherhood of Kyoji. He is the Member of Team Kyoji.
Background
Edit
Main article: Shinto Christian Mythology
As a Child, San came from a small village where she was shunned by others because she had unique powers. When he collapsed, it was Yuki Imai who tended her. When San woke up, she said she would close her eyes and let her escape as an act of gratefulness towards the kind woman. Not knowing that San was an enemy, she felt bonded to him, since he is the first person who ever regarded Three as a person in her own right, not as a girl without memories who is bound to become a living weapon. After San tends to her when she has a seizure due to her enhancements, they spend the afternoon together and even share a kiss. It is only after the truth regarding San is revealed to Three Mushasame that she chose to pilot the giant MRX-087 Psycho Hydra Gundam and attack both San and the city; her desire of getting her memories back and become a full-fledged person are more important than anything. San desperately tries to calm her down and understands Three's feelings. To real avail; she does calm down when he speaks to her, but cannot bring herself to defect. San, Shinjuku, Riku, Tsuki and Taiken became Team Kyoji before the Final Battle of Ka Boa Bu. After the Final Battle, Team Kyoji celebrated Kyoji's 200th Birthday at the White Angel.
It was then that San discovers that Three was still alive. Three finally remembers San when, after catching a glimpse of her. In the end, Four was forced once again to fight against San in the Psycho Hydra Gundam. Unfortunately, The sinking MSN-09 Extra Blaster Zeong crash lands the Psycho Hydra Gundam's Legs causing it to be disabled. San manages to rescue her from the crashing Zeong before the end of the battle at Ka Boa Bu. Unfortunately Shinju was sealed within Three Mushasame and Three became the Ten Tails' Jinjuriki. Paul Gekko comes, finally saving Mushasame by awakening Noel's voice and mind, but sacrifice his shield to injure his arm and splits the Ten Tails in Thirds. After the Battle of Ka Boa Bu, San was now with his girlfriend at Izumogakure High School.
San's Mother- Mother
San's Father- Father
Three Mushasame- Love Interest
Ad blocker interference detected!
Wikia is a free-to-use site that makes money from advertising. We have a modified experience for viewers using ad blockers

Wikia is not accessible if you've made further modifications. Remove the custom ad blocker rule(s) and the page will load as expected.