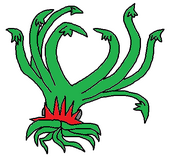 The Shadow Clan (シャドー氏族, Shadō shizoku) is one of the earlier clans which existed during the Paul Gekko Arc and Ventus Arc.
Background
Edit
Mythology
Edit
Main article: Shinto Christian Mythology
End of Creation Arc
Edit
The Shadow Clan were friend to Thunder Strike the Legendary Sky Knight of Team Cyclone.
Paul Gekko Arc
Edit
Birth of Ventus Arc
Edit
They were one of the warring factions alongside the the Kuro Akatsuki to Oppose the Four Noble Clans. Paul Gekko found Three Members of the Shadow Clan and one of the Members of his Clan in the Rusty Village. The Shadow Clan was part of the Battle of Culture Mountain.
Ad blocker interference detected!
Wikia is a free-to-use site that makes money from advertising. We have a modified experience for viewers using ad blockers

Wikia is not accessible if you've made further modifications. Remove the custom ad blocker rule(s) and the page will load as expected.