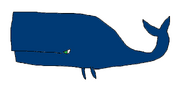 Sharkzilla (鮫ジラ, Same jira) is one of the Titans.
Appearance
Edit
Sharkzilla is the Big Large Blue Sperm Whale like the Terrible Dog Fish.
Background
Edit
Sharkzilla is one of the Titans created by God to live in the Ocean in the Dream World.
Ad blocker interference detected!
Wikia is a free-to-use site that makes money from advertising. We have a modified experience for viewers using ad blockers

Wikia is not accessible if you've made further modifications. Remove the custom ad blocker rule(s) and the page will load as expected.