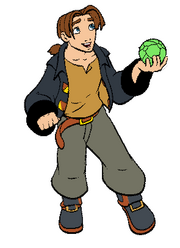 Shinto Flint is Paul Gekko's Ancestor of the Gekko Family.
Background
Edit
Shinto Flint was remembered by history as one of the most feared pirates of all time. He buried a vast enormous treasure in the center chamber of treasure planet called Shinto. He entrusted the map to Treasure Planet to his first mate Greek and he stole the memory chip of his robot navigator S.H.I.N. Shinto also chose his Descendant so that the whole planet can Tranfrom into Metroplex. He leaves the center of Treasure Planet with his treasure and his ship given to and soon helps Paul Gekko defeat the Kuro Akatsuki.
Shinto Flint resembles Jim Hawkins from the Disney Movie, Treasure Planet.
Ad blocker interference detected!
Wikia is a free-to-use site that makes money from advertising. We have a modified experience for viewers using ad blockers

Wikia is not accessible if you've made further modifications. Remove the custom ad blocker rule(s) and the page will load as expected.