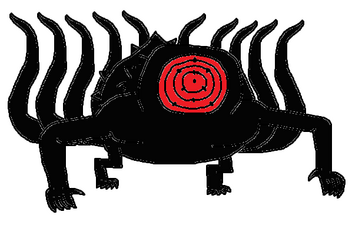 Sound Shocker, commonly known as the Ten Tails (十尾, Juubi) is self-aware Monster of the Kuro Akatsuki.
Background
Edit
Main article: Shinto Christian Mythology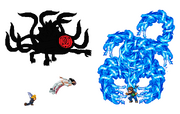 Sound Shocker is self-aware and able to control other Missing Ninja with Sound. Unfortunately Susanoo Uzumaki put the Beast into the Deep Slumber, Thus Building the Ka Boa Bu as it's Temple like Fortress. The Kuro Akatsuki gathered the Nine Tailed Beasts in order to reawaken the Monster and sealed it within their Leader, Cloud. Sound Shocker uses Could as a Vessel to give the Missing Nin Power that could rival the Hylian Federation's Team Okaina.
Sound Shocker was named after the Music Device.
(When Reawakened) I AM SOUND SHOCKER. I AM DECEPTICON. THE REVOLUTION BEGINS NOW.
Ad blocker interference detected!
Wikia is a free-to-use site that makes money from advertising. We have a modified experience for viewers using ad blockers

Wikia is not accessible if you've made further modifications. Remove the custom ad blocker rule(s) and the page will load as expected.