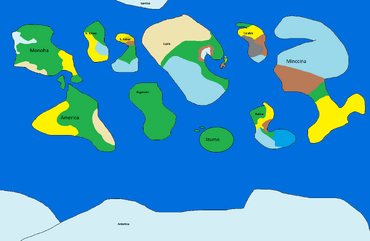 South Kaiser was the Continent that was inhabited by Humans, Giants and Hylians.
BackgroundEdit
Main article: Shinto Christian Mythology
A Paleolithic culture around 30,000 BC constitutes the first known habitation of the Japanese archipelago. This was followed from around 14,000 BC (the start of the Jōmon period) by a Mesolithic to Neolithic semi-sedentary hunter-gatherer culture, who include ancestors of both the contemporary Ainu people and Yamato people, characterized by pit dwelling and rudimentary agriculture.
PopulationEdit
Hylians (Multiple)
Humans (Multiple)
Giants (8)
Kitsune (Multiple)
Buffalo (Multiple)
Dog (Multiple)
Tanuki (Multiple)
Mothra (1)
LocationsEdit
Ad blocker interference detected!
Wikia is a free-to-use site that makes money from advertising. We have a modified experience for viewers using ad blockers

Wikia is not accessible if you've made further modifications. Remove the custom ad blocker rule(s) and the page will load as expected.