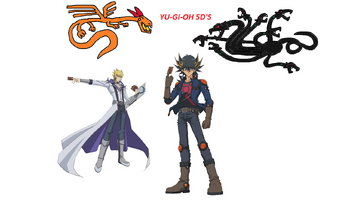 The Yughioh T.V. Series Succeeded from Blazblue Time Chase.
Tag Force Duel is set in New Domino City some time after the events concerning Yugi Muto and Jaden Yuki. A new form of dueling, "Turbo Duels"(Riding Duel), now take place on motorcycles called "Duel Runners". While regular dueling still exists, Turbo Duels have become a popular form of entertainment for spectators, who watch them in specially-designed stadiums.
Yliaster
There are 9 Episodes in the Series.
Episode 1
Edit
Turbo Upgrade
Episode 2
Edit
Toby's Fate
Episode 3
Edit
Meeting Yusei
Episode 4
Edit
Beauty and the Beast
Episode 5
Edit
Awakening
Episode 6
Edit
Kiryu's Fate
Episode 7
Edit
Yliaster's Destruction
Episode 8
Edit
Destruction of Tsukuyomi
Episode 9
Edit
Friendship of Fate
Ad blocker interference detected!
Wikia is a free-to-use site that makes money from advertising. We have a modified experience for viewers using ad blockers

Wikia is not accessible if you've made further modifications. Remove the custom ad blocker rule(s) and the page will load as expected.