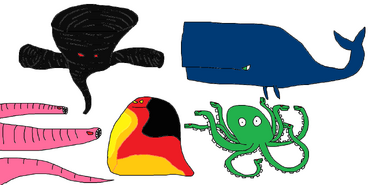 Titans were a race of powerful creatures who were created by God.
Appearence
Edit
Titans greatly resemble human beings in that they are bipedal creatures with the same number and arrangement of limbs and features one would expect in human beings. Most Titans resemble Giant Animals, the multicellular, eukaryotic organisms of the kingdom Animalia (also called Metazoa). Their body plan eventually becomes fixed as they develop, although some undergo a process of metamorphosis later on in their lives. Most animals are motile, meaning they can move spontaneously and independently. All animals must ingest other organisms or their products for sustenance (see Heterotroph).
List of Titans
Edit
Ad blocker interference detected!
Wikia is a free-to-use site that makes money from advertising. We have a modified experience for viewers using ad blockers

Wikia is not accessible if you've made further modifications. Remove the custom ad blocker rule(s) and the page will load as expected.