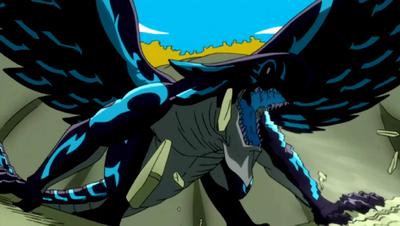 Unnamed Dragon (無名ドラゴン, Mumei doragon) is the one of the Powerful Dragons that assaulted Paul Gekko and Kaede in the Dream World.
Appearence
Edit
Dream World's Dragon is a gargantuan, mastodonic Dragon whose entire upper body is covered in black, round, scales, which, in turn, are decorated by spiraling, blue markings. His lower body, specifically his belly, inner tail, and legs, are gray in color, and appear to be rather smooth. Acnologia's eyes are white and beady, and his head is round and blunt with four, large, elongated plates extending backward. Acnologia's mouth is full of razor-sharp teeth, and, attached to his chin, is a protrusion that resembles an arrowhead. His large wings are feathery in appearance, akin to a bird's.The scales disappear at the end of it's tail, which, in itself, ends in a stinger-esque shape.
the Unnamed Dragon resembles Paul Gekko's Dragon and Acnologia from Fairy Tail Series.
Ad blocker interference detected!
Wikia is a free-to-use site that makes money from advertising. We have a modified experience for viewers using ad blockers

Wikia is not accessible if you've made further modifications. Remove the custom ad blocker rule(s) and the page will load as expected.