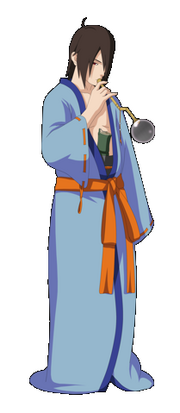 Utakata Uchiha (うちはうたかた, Uchiha Utakata) is one of the Members of the Shadow Clan.
Appearence
Edit
Utakata was a tall, thin young man with pale golden eyes and brown hair that reaches to his shoulders. His side parting let a large portion of his bangs cover the left side of his face. He wore a long, light blue kimono adorned with a small emblem of three bubbles on the back, and a pair of grey pants underneath, with an orange sash. The kimono hung loose, exposing his chest. In it, he carried a bamboo jug filled with a soap Solua and a Pipe for Smoking.
Personality
Edit
Utakata is described as a charming individual.
Background
Edit
Mythology
Edit
Main article: Shinto Christian Mythology
End of Creation Arc
Edit
Utakata was a powerful shinobi of Izumogakure who at some point became the Desciple of Yulia Jue. Utakata has Four Brothers in his Family. In his life as a loyal shinobi of the Ancient Izumo, he would come to be a student under Thunder Strike, Legendary Sky Knight of Team Cyclone.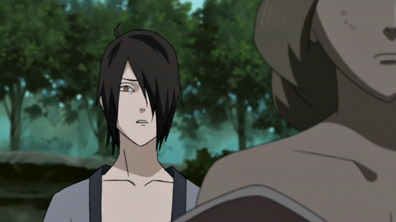 Although injured in Ka Boa Bu, he survived and as Paul Gekko takes on the Ten Tails, Utakata moved to save Hotaru Uchiha, Before the Ten Tails was revived a second time. Utakata suppressed the Ying Juubi by sealing it in the pickle jar. With the Kuro Akatsuki surrendered, and Hotaru safe, Utakata accepts his role as Hotaru's master.
Paul Gekko found Three Members of the Shadow Clan and one of the Members of his Clan in the Rusty Village. Paul Skywalker first came across Utakata Uchiha at the edge of a river where the young Uchiha was attempting to skip a stone all the way across. Easily getting a rock to the other side, Paul introduced himself to Utakata as his rival in stone skipping, and noted that he was clearly leading. Neither Paul and Utakata revealed their surnames, as it was unwise in such an era. The Kaguya event led Paul to return to the riverbank, where he met with Utakata once more, and with him discussed the death of Raiko so Long Ago during the Yamata no Orochi Arc. Utakata notices a depressed Paul Skywalker and Utakata had the same feeling as well where he reveals that he had also brothers. Despite their depression, they continue their training and their friendship blooms as well.
Ad blocker interference detected!
Wikia is a free-to-use site that makes money from advertising. We have a modified experience for viewers using ad blockers

Wikia is not accessible if you've made further modifications. Remove the custom ad blocker rule(s) and the page will load as expected.