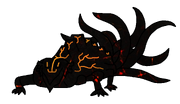 Vlitra, more commonly known as Seven Tails was one of the Tailed Beasts sealed within Raiken.
BackgroundEdit
Vlitra suddenly appeared sending lava burning to the villages of Izumo. Raiken protected his family from Vlitra's Wrath but, Raiken's Parents sacrificed their lives to seal Vlitra within him.
AppearenceEdit
Vlitra resembles to a Salamander.
Ad blocker interference detected!
Wikia is a free-to-use site that makes money from advertising. We have a modified experience for viewers using ad blockers

Wikia is not accessible if you've made further modifications. Remove the custom ad blocker rule(s) and the page will load as expected.