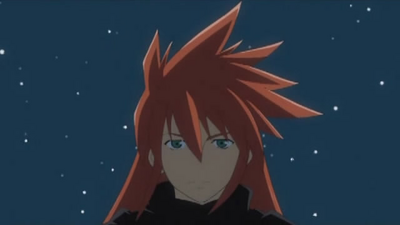 Yami no Mikoto (闇の美琴) is the Fusion form of Luke Fon Fabre, Paul fon Fabre and Asch.
Background
Edit
Paul Gekko steps in to help the group by entering Tailed Beaste Mode. The battle with Van begins. Van utilizes the power of Lorelei and starts to defeat the heroes. Tear begins to sing the Grand Fonic Hymn. Van is defeated by Paul Gekko who was taken over by the Nine Tailed Fox's Chakra. As everyone leaves, Luke promises Tear he will return. Hod begins to fall and Luke catches Asch. Paul Gekko in Orochi Mode destroys the crash landed Fortress Eldrant Two years later Tear and the others are at the Cove where the adventure begun as a memorial for Luke. In the distance, a man approaches the group and tells Tear that he came to the Cove to fulfill his promise to her. Everyone gathers around to greet the man. While the man appears to be a physical combination of both Luke and Asch, a final view of the man shows him carrying his sword in the same fashion as Luke.
Ad blocker interference detected!
Wikia is a free-to-use site that makes money from advertising. We have a modified experience for viewers using ad blockers

Wikia is not accessible if you've made further modifications. Remove the custom ad blocker rule(s) and the page will load as expected.