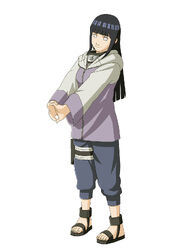 Yuki Hyuga is the descendant of the Hyuga Clan.
Appearance
Edit
Yuki Hyuga is a teenage Titan with dark blue hair and white eyes. She usually wears a cream-coloured hooded-jacket with a fire symbol on the upper sleeves and fur around the cuffs and hem. Along with this she wears navy blue pants and keeps her forehead protector around her neck.
Personality
Edit
Yuki is soft-spoken and polite, always addressing people with proper honourifics. She is kind, always thinking of others' more than for herself, and always caring about others feelings and well-being. She doesn't like to be confrontational for any reason; she doesn't even like being confrontational about her dislike of confrontation. It is for this reason that Hinata so often comes off as meek or timid to others, as her overwhelming kindness can render her unable to respond or act for fear of offending somebody.