Yuri no Mikoto (ユーリの美琴) is the Mage of the White Legacy and the White Angel. She is a Member of Team Cyclone.
Appearence
Edit
Yuri is generally of average height for a girl her age with a slender build and slightly toned body. She has light fair skin that can tend to tan real easily and gives her a darker complexion. She has light brown hair usually tied back in a long ponytail or she may tend to braid it while her bangs remain free and cover a lot of her forehead. She also has almond shaped, amber colored eyes and a very feminine face.
Her attire is a little unusual as it seems to more resemble that of the traditional Indian Sari with a crimson color as the main theme with gold edged designs. Other than that though she may usually were qipao dresses with knee-length pants or short sleeve shirts and long pants. Occasionally she also wears the traditional shinobi vest plus two gold bands along each of her upper arms and brown sandals. She also tends to wear her forehead protector around her head or around her waist.
Abilities
Edit
Yuri is a Mage that is shown to have greater love instead of hatred.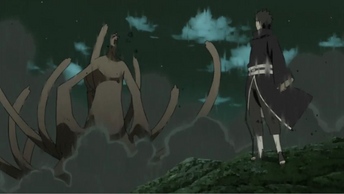 Yuri is shown to transform into a Giant Tailed Beast.
Background
Edit
Mythology
Edit
Main article: Shinto Christian Mythology
End of Creation Arc
Edit
Yuri no Mikoto was encountered by Albedo, She also came to view Albedo as a surrogate brother and grew close to him. When Yuri no Mikoto consumed the Fruit of Shinseijū, She became a Mage that has the Power to transform into a Tailed Beast and became a Member of Team Cyclone. Yuri no Mikoto, took Guy as her student.
Ad blocker interference detected!
Wikia is a free-to-use site that makes money from advertising. We have a modified experience for viewers using ad blockers

Wikia is not accessible if you've made further modifications. Remove the custom ad blocker rule(s) and the page will load as expected.